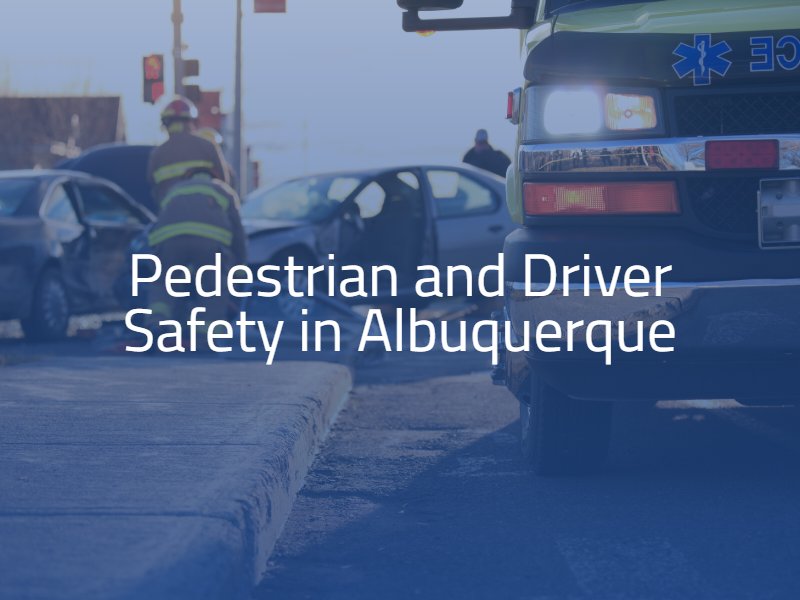 Whether you're walking home, exploring a new city, or simply in a parking lot, we're all pedestrians at some point in our daily lives. Walking is a great way to get around, but it's not without its risks. The safety of the pedestrian has become a huge problem today, with many reports hitting the Albuquerque news of pedestrians being struck by vehicles.
According to the National Highway Traffic Safety Administration, on average, a pedestrian was killed every 88 minutes in traffic crashes in 2017. As a pedestrian, it can be hard to watch out for oncoming traffic in every direction, but that's why there are laws and regulations put into place that both drivers and pedestrians should follow, so that drivers can be aware of when to watch out for pedestrians. Crosswalks, pedestrian signals, and stop lights exist for a reason—for the safety of the pedestrian and the driver!
There are certain steps one can take as either a pedestrian or a driver to ensure that whether you're driving on the road, or walking across it, you can avoid getting hurt or hurting others. For more information, contact our Albuquerque pedestrian accident lawyer.
As a pedestrian, you should:
Wear brightly colored or reflective clothing

Look both ways when walking

Always use crosswalks when available

Only cross an intersection when you're given the signal that it's ok to walk

Stay alert at all times and avoid using your phone

Always walk on sidewalks if accessible

Always walk as far from cars as possible

Make yourself seen, try to make eye contact with drivers

At night, try to stay in well-lit areas

Be aware in parking lots, don't walk behind cars that are backing up

If a car is pulled too far forward, do not walk behind it
As a driver, you should always:
Come to a full stop at intersections

Follow the traffic lights

Avoid pulling too far forward at the intersection, allowing space for people to use the crosswalk

Pay attention to people walking

Look both ways

Look out for signs that say "No turning when red"

Keep your eye on the pedestrian walking sign

Be aware when turning on a green light

Be aware when turning right on a red light

Follow school zone speed limits

Always allow space for pedestrians, even in residential areas with no designated crosswalk or sidewalk
If everyone collectively follows the rules of the road, we can create a safer place for pedestrians and drivers in Albuquerque! It's up to all of us to be aware of our surroundings when we're on the road, and we hope that some of these reminders will encourage you to slow down and remember that everyone is somebody's loved one. If you do find yourself to be a victim of a pedestrian accident, seek help immediately and then call the professional and experienced Albuquerque personal injury attorneys at Ring Jimenez, P.C. to fight for you. (505) 373-3333