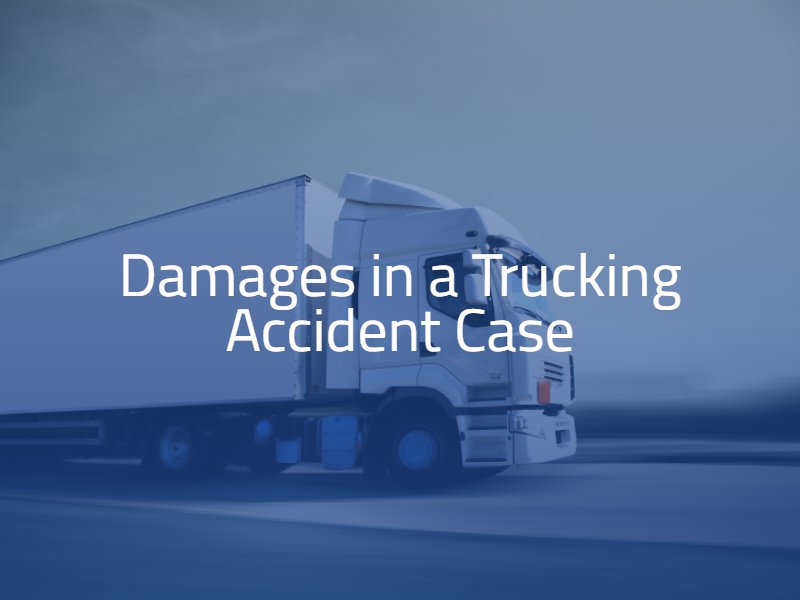 If you've been involved in an Albuquerque trucking accident, odds are you've suffered very serious and expensive personal injuries. These injuries may be a result of several different factors, including the semi-truck size/weight, the driver's experience, how fast they were going, what cargo they were hauling, and more. To ensure you're awarded the amount of compensation you need to make a full and successful recovery, identifying what types of damages you're entitled to is crucial—but isn't always easy.
Below, we've broken down the types of damages that are available to you and what they entail.
Damages: Defined
In a trucking accident case, the amount of damages awarded typically corresponds to the victim's total losses, both tangible and intangible. Damages are awarded to a plaintiff as a means of compensation for the loss or harm they've suffered, including medical bills, emotional trauma, damaged property, and beyond. The three main types of damages are economic damages, non-economic damages, and punitive damages, each of which are determined by varying factors and circumstances.
Economic Damages
Economic damages are calculated in monetary terms and are awarded as a direct result of financial loss. To win these types of damages, you may need to prepare multiple documents, have key evidence, or an expert witness to prove the amount of your losses. Economic damages may include:
Medical expenses, past and future

Lost wages

Property damage

Vocational rehabilitation

Any other calculable expense that was a direct result of the accident
Non-Economic Damages
Non-economic damages may also be referred to as intangible damages, which are compensated for any psychological harm directly caused by the accident. These types of damages may be awarded in greater amounts than economic damages and may include:
Pain and suffering

Disability or disfigurement

Physical impairment

Emotional anguish

Reputational damage

Loss of enjoyment of life / activities

Loss of household services

Loss of companionship

Any other intangible loss
Punitive Damages 
Punitive damages, also known as exemplary damages, are awarded as a means of punishment to the defendant rather than a means of compensation. They are paid to the plaintiff by the defendant and are usually awarded in addition to economic and non-economic damages.
Get the Compensation You Deserve!
At Ring Jimenez, P.C., we remain committed to you, our client, and fighting for the justice you deserve! If you've been involved in a trucking accident in Albuquerque, you've suffered enough—call (505) 373-3333 and let our team of Albuquerque truck accident attorneys represent you!