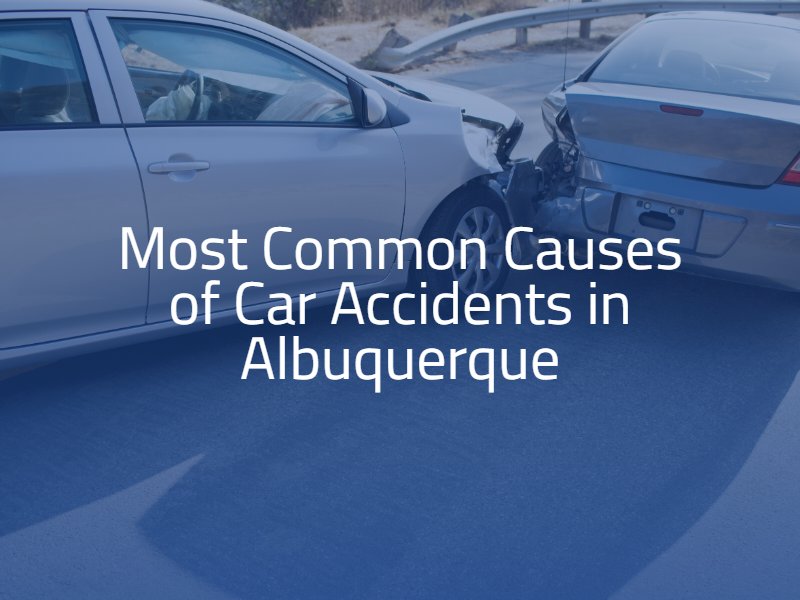 Car accidents are unfortunately common on Albuquerque roads. According to the New Mexico Department of Transportation, New Mexico saw an average of 128 crashes, 54 injuries, and one death per day during 2018—a startling statistic. In Bernalillo County alone, a crash occurred every 27 minutes during 2018.
Many factors contribute to these accidents, including driver negligence, poor road conditions, and dangerous, reckless behaviors. If you suffer an injury in a  car accident and someone else is responsible, you may have grounds for a lawsuit or insurance claim. For more information about your claim, speak to one of our Albuquerque car accident attorneys today.
New Mexico Car Accident Cause Statistics
The New Mexico Department of Transportation releases an annual report on traffic crash statistics. According to the Department's 2018 report, the following factors contributed to the highest number of crashes and fatalities.
21% of New Mexico collisions in 2018 involved distracted driving
14% of crashes occurred due to the failure to yield the right of way
11% of crashes involved drivers who followed too closely
55% of fatal crashes involved the use of alcohol or drugs
9% of fatal crashes involved distracted driving
7% of fatal crashes involved excessive speed
Causes & Types of Car Accidents in New Mexico
Car accidents can occur due to any combination of driver negligence, poor decision-making, and inclement road conditions. Some of the most common causes of accidents in New Mexico include the following.
Excessive speeding: Speed limits are in place to allow drivers adequate time to respond to hazards and to keep vulnerable pedestrians safe. Excessive speeding reduces reaction time and increases the risk of a collision.
Driving under the influence: Drugs and alcohol impair judgment, concentration, motor skills, and other cognitive functions necessary for driving. Without a clear state of mind, accidents can easily occur.
Distracted driving: Drivers must focus their minds, eyes, and hands-on the act of driving, and any distraction that prevents them from focusing can heighten the risk of an accident. Common distractions include texting, talking on the phone or others in the car, fiddling with the GPS or radio, or eating and drinking.
Failure to yield: Right-of-way rules are in place to ensure safety and efficiency on New Mexico roads. However, if one driver fails to yield the right of way to another, both vehicles can collide into each other. Drivers who fail to yield the right of way to pedestrians and cyclists also increase the risk of a collision.
Unsafe lane changes: Before a driver can switch lanes, he or she must ensure that the road is clear and he or she can make the change safely. If a driver fails to perform due diligence, he or she can crash into another vehicle in that lane.
Compensation After a New Mexico Car Accident
Since New Mexico is a fault accident state, any driver responsible for an accident must pay for the damages of his or her victims. These damages may include medical bills, lost wages, property damage, and other financial, physical, and emotional losses related to the accident.
Identifying the cause of your accident is the first step toward securing the compensation you need to recover. An Albuquerque personal injury attorney can conduct a full-scale investigation into your accident and build a compelling case for your compensation, whether you decide to file an insurance claim or proceed with a lawsuit. To protect your right to damages, contact a car accident lawyer as soon as possible following your collision.