Albuquerque is a bustling metropolis with plenty of rideshare services easily available. The most popular are Lyft and Uber. Thousands of rideshare drivers traverse the city to pick up and drop off passengers on a nightly basis in downtown Albuquerque. Unfortunately, not all of these drivers are responsible…and rideshare companies are notorious for avoiding liability for car accidents. If you have been injured in a rideshare accident in Albuquerque, you may need help from an attorney to protect your rights and obtain fair compensation. Contact Ring Jimenez, P.C. right away for a free consultation about your recent accident.
Why Do Clients Choose Ring Jimenez, P.C.?
Our Albuquerque car accident lawyers offer personal service and direct communication from our Albuquerque rideshare accident attorneys to all of our clients.
We know how to negotiate for the best possible results, even against Fortune 500 companies.
We have been helping rideshare accident victims since these services debuted in Albuquerque.
We have recovered millions of dollars for our clients over the last 10 years.
We do not charge for Albuquerque rideshare accident cases unless we win.
How Can a Rideshare Accident Attorney Help?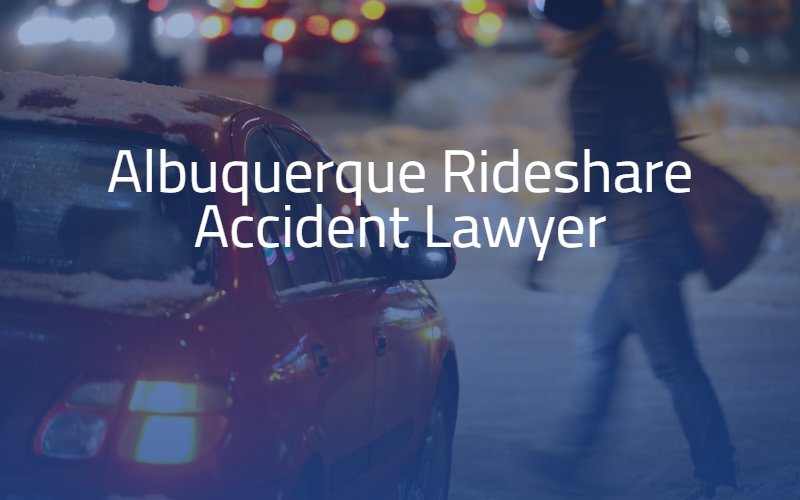 Rideshare companies such as Uber and Lyft classify their drivers as independent contractors. This allows the companies to shirk liability for most accidents their negligent or irresponsible drivers cause. It can be difficult to access the $1 million in insurance both Uber and Lyft provide to accident victims. Rideshare companies will have no choice but to listen, however, if you hire a lawyer. Legal representation can force an insurance company to take your case more seriously. Work with an accident attorney in Albuquerque for the best chance of securing fair compensation for your medical expenses, lost wages, and other damages after a rideshare accident.
Who Is Liable for an Albuquerque Rideshare Accident?
New Mexico is a fault insurance state, meaning you will seek benefits from the at-fault driver's insurance provider after a typical auto accident. Technically, you will do the same after a rideshare accident; you will bring your injury claim against the person most responsible for causing the collision. Since a rideshare company is also involved, however, the insurance company that takes your claim may not be that of the individual driver. The rideshare company may absorb liability instead.
Determining liability is challenging in the aftermath of a vehicle accident involving an Uber or Lyft driver. This will involve gathering various types of evidence, and an attorney will work diligently to fully investigate the incident and handle this part of the investigation on your behalf. Some of the main types of evidence that will help prove liability includes, but is not limited to, the following:
Photographs taken at the scene of the Uber or Lyft crash

Video surveillance from nearby cameras

Any dashcam video surveillance

Rideshare driver mobile app data 

Vehicle "black box" data

Statements from other drivers or passengers

Statements from eyewitnesses to the rideshare accident
In the event the evidence uncovers that the rideshare driver likely caused the incident, you will then have to deal with the rideshare company's insurance policy.
Understanding Rideshare Companies Insurance "Periods"
It is crucial to understand how rideshare companies handle insurance when it comes to accidents involving their drivers. First, individuals are not allowed to operate vehicles for Uber or Lyft unless they carry the minimum insurance required for drivers in New Mexico. Additionally, both rideshare companies do provide various types of insurance coverage that kick in depending on the status of the driver at the time the accident occurs (called periods). 
Period Zero – Offline and on Personal Time
During this time frame, this is when a driver is not signed into the rideshare app to work. The driver will be considered to be on their own time, and their own insurance carrier will be responsible for coverage of any crash caused by the driver. 
Period One – Driver Online With no Ride Request
During this particular time frame, an Uber or Lyft driver will have activated the rideshare app and come online to accept passengers. However, in Period One, a driver will not have received a ride request. During this time frame, the driver will be covered under both Uber and Lyft's insurance policies, but this coverage will only include liability for other vehicles or passengers should the rideshare driver cause an accident, and the total policy amount will mimic the minimums required under New Mexico State law.
Period Two – Driver is On-Duty With a Ride Request
During this time frame, a driver must be signed in to work and be on the way to pick up a ride request. While this process is ongoing, Uber and Lyft have $1 million liability insurance policies that kick in to pay for any damages or injuries caused by the rideshare driver. Both companies will offer collision coverage to pay for damage to other vehicles involved.
Period Three – Driver Has a Passenger
When a driver has a sanctioned passenger on board, the $1 million liability insurance policy from Uber and Lyft still applies, as does comprehensive and collision coverage. 
Regardless of whether or not you are injured as a rideshare passenger or as a driver or passenger in another vehicle in these accidents, you need to be aware of how these insurance "periods" can affect your claim. A skilled rideshare accident lawyer in New Mexico can help you get through this entire process. 
According to both Uber and Lyft's insurance policies, these rideshare companies make different amounts of insurance coverage available to injured accident victims depending on the phase of the ride. The first phase is when a rideshare driver has logged into the app but has not yet picked up a passenger. If the driver causes a car accident in this phase, Uber/Lyft will provide up to $50,000 per person and $100,000 per accident in bodily injury damage liability insurance if the driver's personal policy does not fully cover the victim's damages.
Phase two is when the driver has accepted a ride and is traveling to pick up the rider. Once the driver picks up a passenger, phase three of the ride begins. Uber and Lyft both offer up to $1 million in insurance coverage to victims injured in phases two and three. You may need to prove the rideshare driver's negligence to access this insurance coverage, however, as well as negotiate with multiple insurance companies for fair compensation. Rideshare companies often do not make it easy for crash victims to recover.
However, if you are riding a motorcycle and are hit by a rideshare vehicle, please reach out to one of our Albuquerque motorcycle accident lawyers today!
Contact Us After a Rideshare Accident in Albuquerque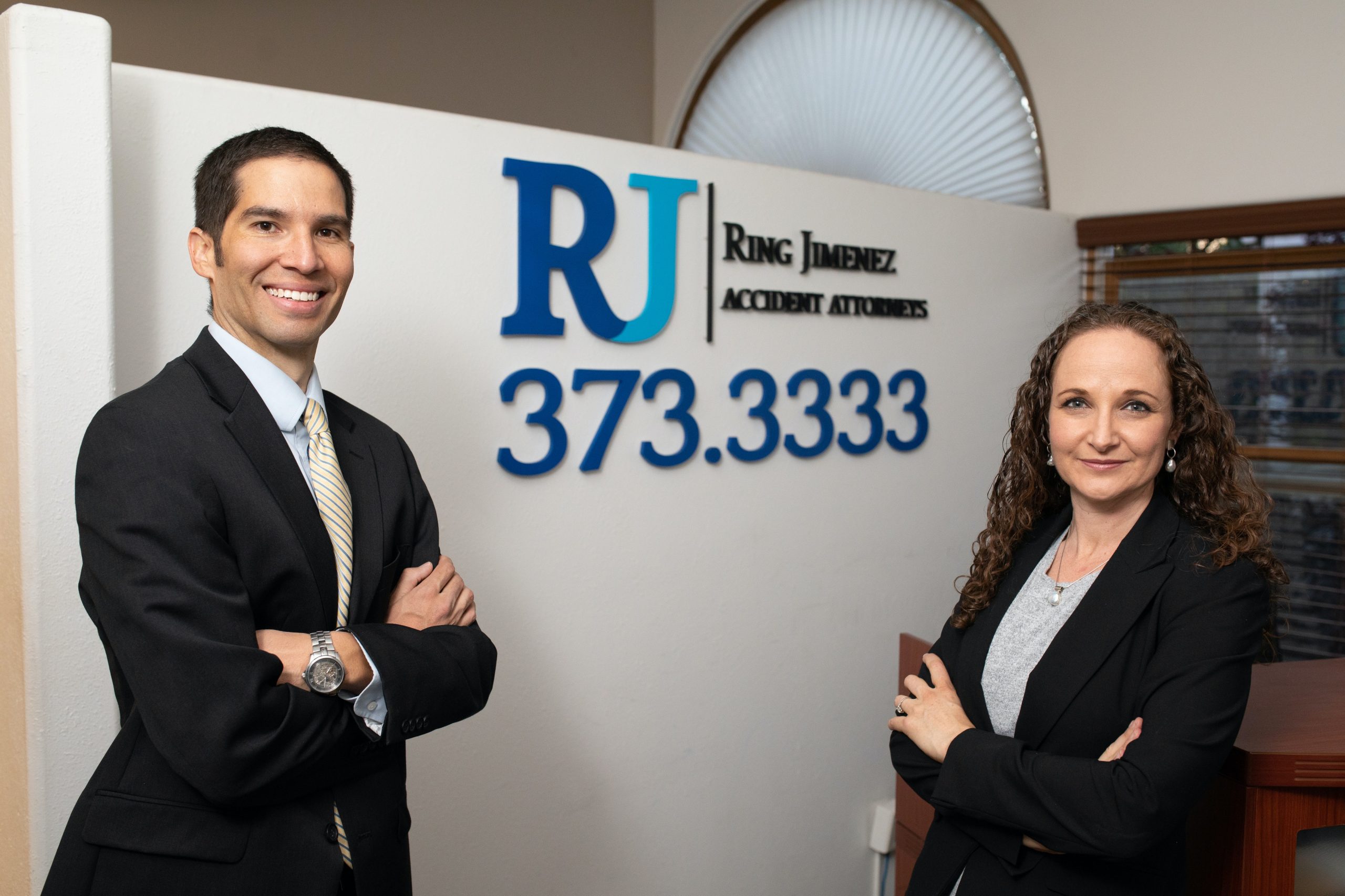 You do not have to stand alone against a powerful rideshare company after an accident involving one of its vehicles or drivers. At Ring Jimenez, P.C., we have attorneys with years of experience available to help you protect your rights. We will not back down from a fight. If we believe a rideshare company such as Uber or Lyft owes you compensation for your injuries and losses, we will work hard to secure the results we believe you deserve. We can take cases to trial in Bernalillo County, New Mexico, if necessary. Contact us if you were recently injured in a rideshare accident in Albuquerque. Call (505) 373-3333 24/7 to schedule a free consultation with our local attorneys.